Profile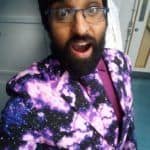 Muhammed Rassul
Curriculum Vitae
Education

Aberdeen University 2009 to 2013 , Birmingham University 2013-2018

Qualifications

GCSEs Religious education, IT, Science, Maths, English, Latin, History, Business studies, Graphic Design, Spanish Alevels Maths, Biology, Chemistry, economics Bsc Neuroscience MSc Medical Imaging PhD Neuroscience

Work History

2019-2020 Research Technician 2018 Arena staff 2011-2013 science Festival assistant 2010 Noon food products

Current Job

Research technician
About Me: A neuroscientist and avid weird suit collector.

Read more

Hey! I am Mo, and an exuberant neuroscientist; I started with humble beginnings as an artist, however the siren song of science later lured me in to do a Degree in Neuroscience.

With that I was hooked, and like any addict I fed my addiction, a science festival here, a small masters degree in physical sciences there, a PhD in secret in the backroom, there was no end to my addiction. Now, the problem with an addiction like this, is you always want company, people who you can enjoy your vice with, so I started going to into public areas, schools, and even museums, and shared my vice with those who would listen. With that here I am, sitting in a lab in Birmingham, looking for more opportunities to share some science.

My Work: I look at the protective covering of the brain cells.

Read more

I am a neuroscientist, so basically I look at the brain. Specifically I look at the insulation of the brain known as myelin. Myelin is really important to allow messages to transfer within the brain at the speed we need to interact with the world. However, conditions such as multiple sclerosis causes this to be damaged.
I look at ways we can cause this damage to be reversed.

My Typical Day: Prepare some brain slices, or cultures, read some papers on pain and go into the lab, followed by baking.

Read more

My day varies constantly, it normally starts with some writing (either part of a short story or something a bit more personal), followed by breakfast and getting ready, I head into work where I start of with a bit of reading/preparing for the experiments of the day. I then go into the lab where I will tend to my brain slices, or grow some cells, help out other members of the lab, ect. In the afternoon I de-stress with some baking, maybe a walk. I then finish my day with some more story writing.

What I'd do with the prize money: Run a brain day

Read more

I have always felt that there is very little information on the brain which the public has access to, and a lot of false information being spread around because of this. I would love to run a brain fun day, with lots of fun activities like building a brain, ect. To help spread my enthusiasm of the brain and debunk some myths.

My Interview

How would you describe yourself in 3 words?

Weird, friendly, eccentric

What or who inspired you to follow your career?

The brain, it totally confused me and was the most interesting thing I learnt about. Like a giant puzzel

What was your favourite subject at school?

Art

What did you want to be after you left school?

a Musician

Were you ever in trouble at school?

Yes, everyone gets in trouble at one point or another, it is how you develop from it which counts.

If you weren't doing this job, what would you choose instead?

Baker

Who is your favourite singer or band?

Jojo

What's your favourite food?

Sharon Fruit

What is the most fun thing you've done?

I think it is when I played dodgeball dressed as a giant heart.

If you had 3 wishes for yourself what would they be? - be honest!

I wish I would draw more, bake more, and was a bit smarter.

Tell us a joke.

What happens if you break the brain scanner? You have an CATastrophe.
---
---